Short on precious cash? Maybe you have urgent financial emergencies? Or maybe you're just curious whether these aggressively-marketed financial apps are scams or not?
There are plenty of questions surrounding loan apps, and if there's one thing we know here at Adulting Pinoy, it's that no one must ever make serious financial decisions without considering all the relevant information — especially loans.
Thus in this article, we're going to talk about the best loan apps in the Philippines, their pros, cons, and specific use cases.
Ready? Let's dive right in.
What are Loan Apps?
As online transactions have become the norm, a new type of loan has emerged; loan apps.
You can borrow money from a private lender through a mobile app in an online loan. Although these online lenders technically have a physical office, they operate digitally through apps or websites to process applications.
In the Philippines, using legitimate online loan apps are more convenient.
Steps such as answering and submitting an online loan application form and awaiting its approval have become conveniently paperless, and you can get your money within a day. You can also easily make repayments from remittance centers and the partner banks of the online lender.
Moreover, because many online loan companies are around, you can expect healthy competition between the companies. Each one will try to entice you with different perks, such as easier loan requirements and a shorter application process, so you'll have plenty of offers to choose from.
Remember, though, that loan apps are different from online loans.
An online loan is just an easier method of applying for a loan from traditional banks. One primary difference between banks and online lenders is that loan apps usually only require proof of income or a valid ID.
On the other hand, traditional financial institutions perform credit checks to verify a borrower's capacity to pay, increasing the waiting time and difficulty of acquiring a loan.
Best Loan Apps in the Philippines
If you have already done a quick Google search about loan apps in the Philippines, then you probably know that there are several online loan platforms available for you. However, picking out the app for you could be a pickle. Luckily, we have picked out twelve of the best loan apps in the country for you to browse.
Minimum Loan Amount: PHP 5,000.00
Maximum Loan Amount: PHP 25,000.00
Interest Rate: 1-4% Variable (Depends on GScore)
Requirements:
Qualifying GScore
Verified GCash Account
The GCash App is among the most used virtual wallets in the Philippines.
As a loan app, Gcash allows you to loan up to PHP 25,000 online without linking a bank account, payable from 9 to 12 months as a loan app.
The main advantage of GCash is that even among other loan apps, GLoan is much easier to apply for. All you have to do is have a verified GCash account and qualified GScore, and you won't have to do anything else. Since GCash is already practically a part of our lives, you won't have to undergo the hassle of registering for another app again.
On the flip side, this feature won't be available to all GCash users; only those with a GScore of 400-500 points can unlock this bonus feature of GCash.
The GScore is GCash's trust scoring system. The higher your score is, the more GCash is assured that you practice good money behaviors and pay your loan.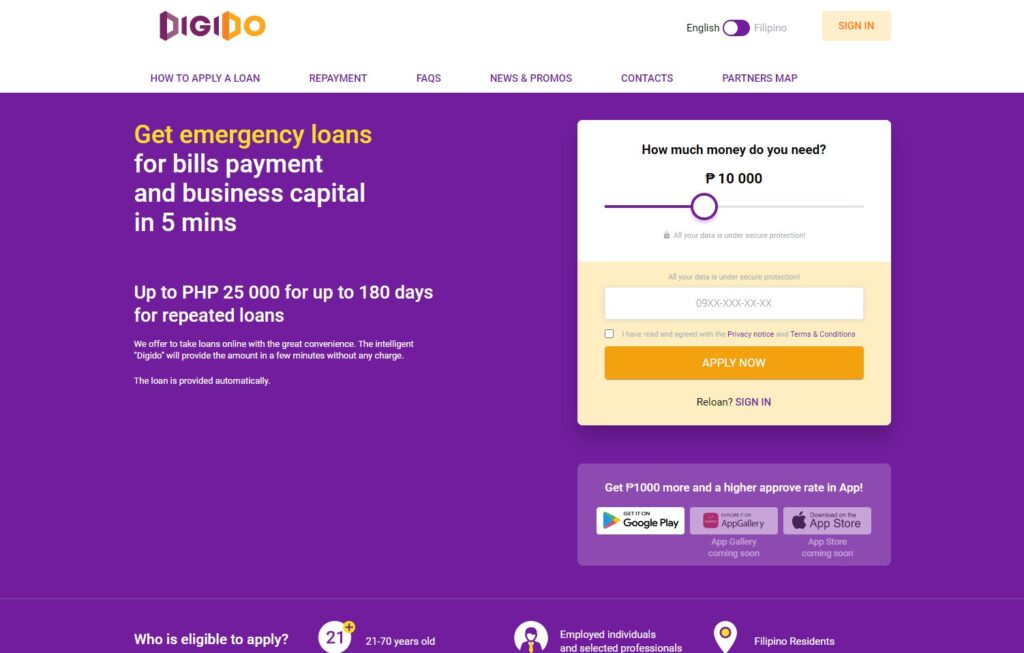 Minimum Loan Amount: Php 10,500.
Maximum Loan Amount: Php 25,000.
Interest Rate: 11.9% per month
Requirements:
Only for employed individuals and selected professionals
21-70 years old
Filipino resident
Any government-issued identity card including the following

Payslips
COE
ITR
company ID
DTI (if self-employed or with business)
Digido.ph, previously called Robocash, is a popular loan app known for its automated lending system.
This system makes quick decisions to process your loans efficiently. The cherry on top for the excellent customer service are the low interest, promotional loans, and non-collateral loans as high as GLoan at PHP 25,000.
With Digido, getting a loan is quick and easy, and you no longer need to fear hidden payments and increasing interest rates.
Minimum Loan Amount: Php 3,000.
Maximum Loan Amount: Php 10,000.
Interest Rate: 10%
Requirements:
Any two of the following government-issued IDs:

SSS
Driver's License
TIN
Passport
UMID
PRC

Latest Payslip
Company ID
Any of the following recent proof of billing under your name:

Electric bill
Water bill
Postpaid telco bill
Credit card bill
Applying and borrowing money in Easycash is truly easy. Enjoy a quick and easy application, a convenient way to access loans through the app, and a maximum loan amount of PHP 10,000.
One of its main features is the flexible payment options, which allow you to schedule your payments based on your ability to pay.
They also have multiple loan types, such as:
Seafarer loans. Only for qualified seafarers, this type of loan requires that you have a legal identification of your seafarer job, such as a contract of deployment.
Business loans. If you're a qualified small business, you can apply for a loan to finance your small business. You will be required to fill in the purpose of your loan and provide additional information about your business.
Personal loans. Lastly, you can also take out small loans just for your personal home needs, with repayment periods of up to 3 months.
Aside from the technological efficiency, Easycash sets a name for its excellent customer service.
On the flip side, its personal loans have some of the highest interest rates around: a non-variable rate of 10% per month. This is already pretty expensive; loaning PHP 10,000 for three (3) months will net you a monthly payable of PHP 4,333.00.
That's about PHP 12,999.00 total.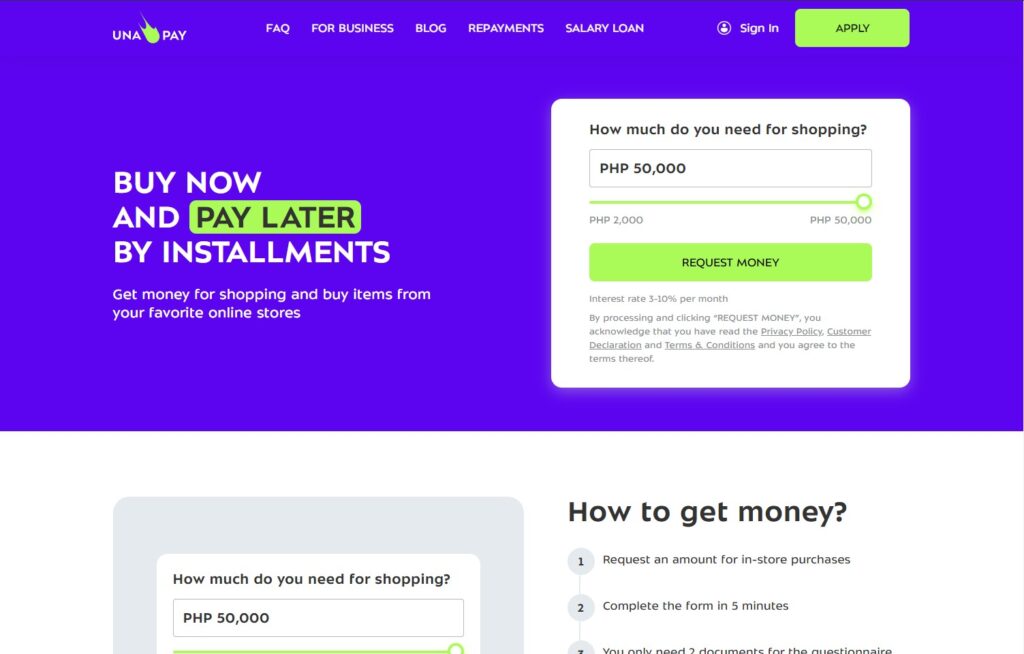 Minimum Loan Amount: Php 2,000
Maximum Loan Amount: Php 50,000
Interest Rate: 3-10% per month
Requirements:
Any of the following valid ID:

Driver's License
SSS
UMID
Philippine Passport
Improved Postal ID
PRC

Proof of Income

For Employed applicants, the following are required:

Payslips
Certificate of employment
Screenshots of bank transaction history
Upwork certificate of employment
Paypal transaction history
Remittance slips

For Business Owner applicants, the following are required:

Barangay Business Permit
BIR Form 2303
Mayor's Permit
SEC/DTI Permit

For Online Seller applicants, the following are required:

Photo of Products with Facebook Page
This SEC-registered loan app has some of the highest loan limits around, reaching up to PHP 50,000 in a single loan.
With UnaCash, you can enjoy loans worth Php 1,000 to Php 50,000 with low-interest rates and no hidden fees. You can also enjoy benefits such as a one-day application approval, contactless transactions, and a hassle-free e-payment process.
It also has two types of loans: business loans and salary loans.
One of its main features is that its business loan can integrate to selected online merchants, which is very convenient to help drive sales for business owners and online sellers.
Minimum Loan Amount: Php 1,000
Maximum Loan Amount: Php 7,000 for first-time borrowers, up to Php 30,000 for loyal customers
Interest Rate: First-time customers are offered zero interest
Requirements:
Aged 22 – 70 years old
Residing in the Philippines
Employed individuals or selected professionals
Have a valid bank or one of the following e-wallet accounts:
Have any of the following ids:

TIN
Passport
PRC
UMID
SSS
Driver's License
The Online Loans Pilipinas app provides a quick and hassle-free application process for you.
One of its astounding loan benefits is its interest-free first-time loan. You can only borrow up to PHP 7,000, but you won't be charged with additional interest as long as you pay on time. This is a very generous offer compared to other loan apps on this list.
However, this loan app doesn't provide information on how much repeat loaners will be charged.
According to their FAQs, the loan terms will be determined as you apply for your loan, so make sure you agree with the loan terms before you actually go through with the loan. It won't be as great of an offer as the first one.
You can also loan here even without a bank account.
For clients who do not own a bank account, the option to disburse your loan at GCash within 2 hours is also available in the app. However, using a bank account may be more favorable for your loan application.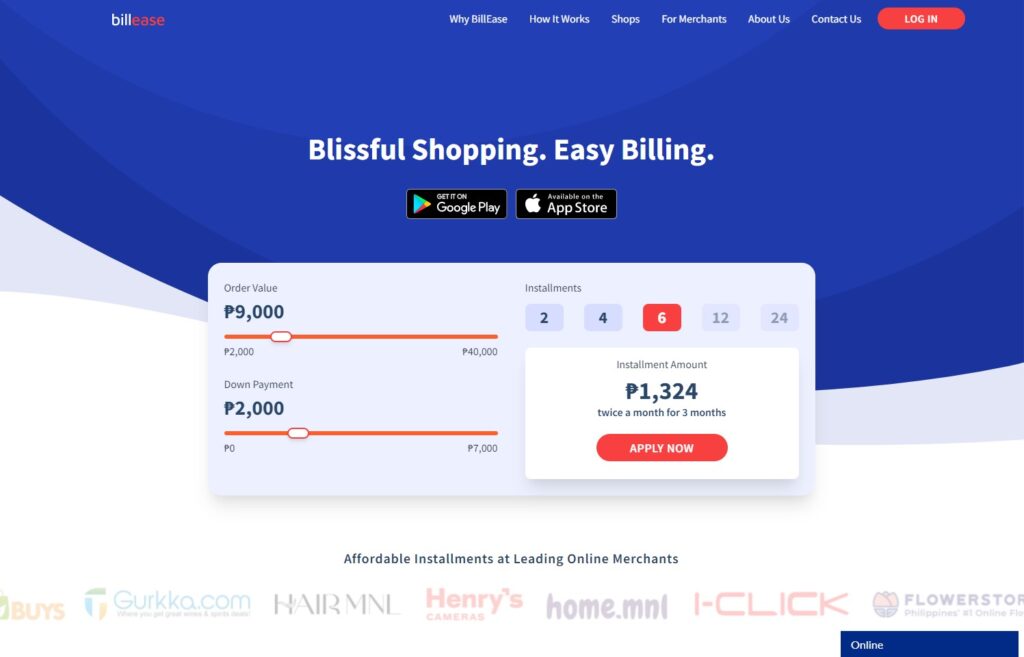 Minimum Loan Amount: Php 2,000
Maximum Loan Amount: Php 40,000
Interest Rate: 3.49% monthly
Requirements:
At least 18 years old with a stable source of income
One valid ID
At least one of the following Proof of Income

Payslips
screenshots of bank transaction history
Upwork certificate of employment
Paypal transaction history
remittance slips

At least one of the following Proof of Billing

Meralco bill (preferred)
credit card bill
water bill
cable TV bill
postpaid plan bill
BillEase is the virtual credit card you never knew you needed. An online loan app that allows you to buy now and pay later, BillEase is true to its name in that you can settle your bills with ease and pay it at a later date.
Initially, BillEase was only a payment app, which means that you can only use it to pay for stuff online — you can't withdraw hard cash loans.
However, recently BillEase announced a new feature that allows you to cash out a certain amount as a loan. Customers are given a credit limit when they register to the app, and a portion of this limit is withdrawable, so you can use it to pay for things outside of online stores.
More than that, this app also has relatively low rates and installment plans of up to 6 months.
Minimum Loan Amount: Php 500
Maximum Loan Amount: Php 20,000
Interest Rate: 11.9% per month
Requirements:
22-60 years old
Filipino resident
Employed individuals and selected professionals
Among the many pros of using MoneyCat are its secure transactions and excellent analytics. This means that you can rely on the app to process your requests in the blink of an eye, allowing you to get your loans faster.
Most transactions in the app also don't incur a fee, unlike most of the other apps on this list. As the company aims to improve the economic mobility of its Filipino clients, you can also get credit for terms that last as long as 3 to 6 months.
Moneycat also allows you to make contactless transactions at home. After five minutes of filling up the application, you can soon use its low-interest rates and excellent customer service.
You can pay your loans at Bayad Center, 7-Eleven, SM Payment Counter, LBC, ECPay Center, or Robinsons Department Store. You can also make bank transfers or pay through Gcash.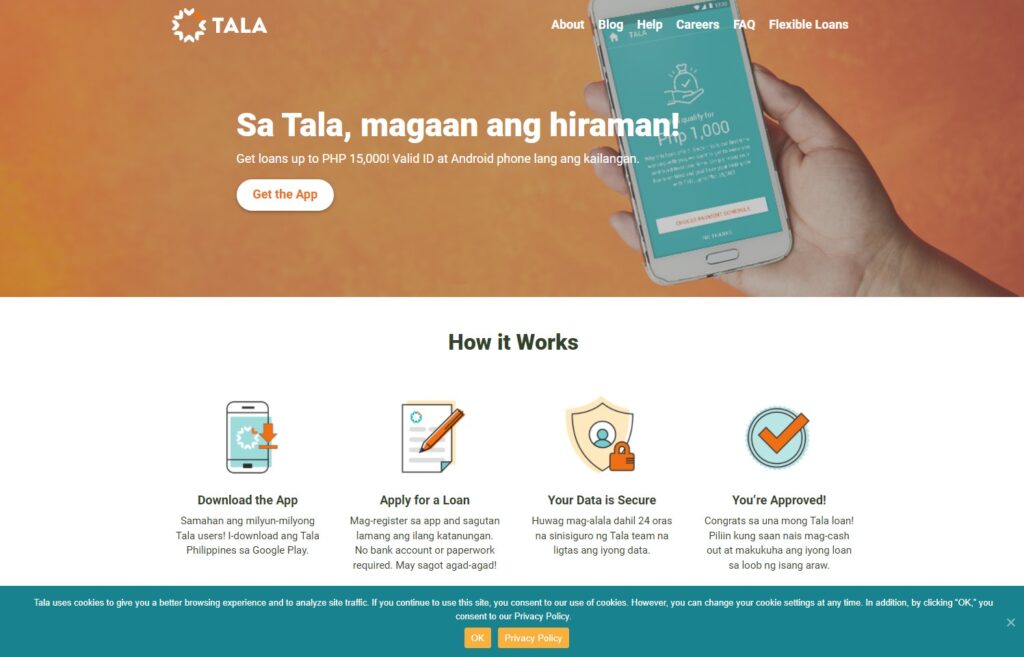 Minimum Loan Amount: Php 1,000
Maximum Loan Amount: Php 15,000
Interest Rate: 11.4% for 21 days and 15.2% for 30 days
Requirements:
One valid ID
A mobile phone user who could access the app
Tala's one million global users might reassure you if you are looking for a trustworthy cash loan app.
This loan app has a blazing fast registration and loan application service; just after five minutes of applying to Tala, you can already make an online loan that will be credited to your electronic wallet or bank account.
You can also receive your loan from any Tala office. With the tala app, you can borrow money from the comfort of your home. Furthermore, you have the option to repay in whole or in installments and through the nearest Cebuana Lhuillier, 7-Eleven, or M Lhuillier.
On the flip side, their fast and convenient service comes with a cost: they have some of the highest interest rates around.
Minimum Loan Amount: Php 3,000
Maximum Loan Amount: Php 20,000
Interest Rate: 0.35% to 0.5% of your loan amount (or remaining balance) per day
Requirements:
One of the following eligible government ID:

Driver's License
Social Security System ID (SSS ID)
Government Service Insurance System (GSIS ID)
Tax Identification Number (TIN ID)
Professional Regulation Commission ID (PRC ID)
Passport
Unified Multi-Purpose ID (UMID)
Voter's ID
National Bureau of Investigation (NBI) Clearance

One of the following eligible employment proof:

Company ID
Payslip/E-payslip
Certificate of Employment (COE)
ITR
Bank Account Statement showing your payroll record
Selfie (in uniform) inside working place
Remittance slips
One of LoanChamp's main benefits is its relatively low application barrier. Although officially you need both government ID and proof of employment, LoanChamp will typically approve those who only have government IDs on the second application.
It also has flexible repayment terms because they measure their interest rates per day. This means that the earlier you repay your debt, the less you will actually have to pay overall.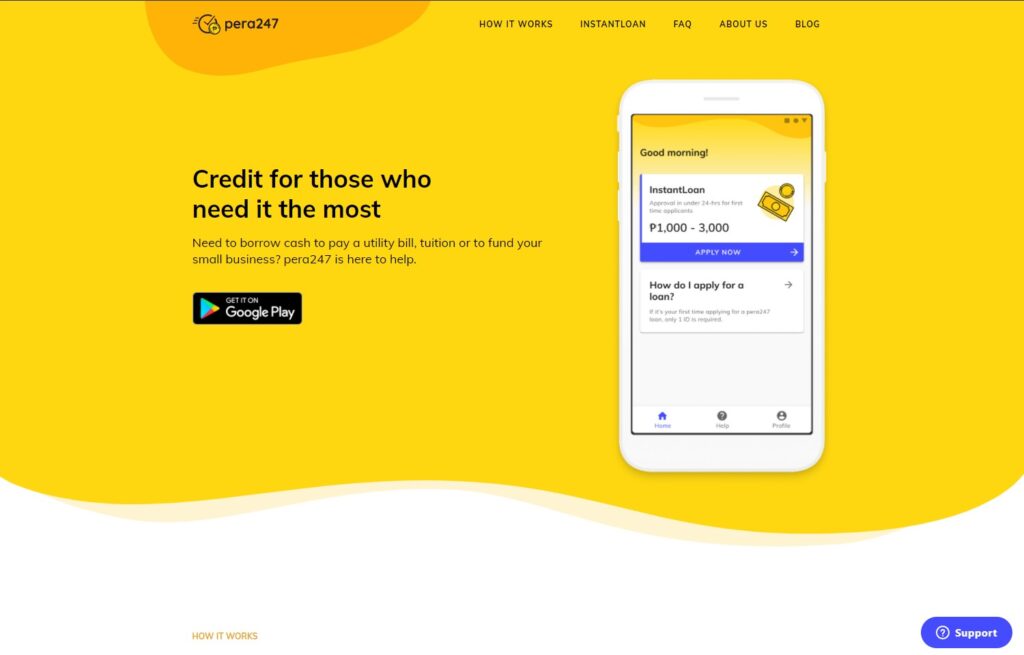 Minimum Loan Amount: Php 1,000
Maximum Loan Amount: Php 30,000
Interest Rate: Dependent on the applicant's eligibility
Requirements:
One of the following valid government-issued IDs with an up to date address:

TIN ID
Unified Multi-Purpose ID (UMID)
SSS ID
Pera24/7 is a mobile app that caters to both new and frequent borrowers. True to its name, new borrowers can get instant cash of about PHP 1,000.
Meanwhile, established borrowers can borrow up to PHP 30,000 at lower interest rates through the InstallmentLoan program.
If you are shopping at partner merchants, you can also use the eShoppingLoan feature to pay back in installments.
Furthermore, with only an ID and a selfie as a requirement, the process is much faster and hassle-free! Make sure to monitor your total cost of loans in-app to be aware of hidden fees.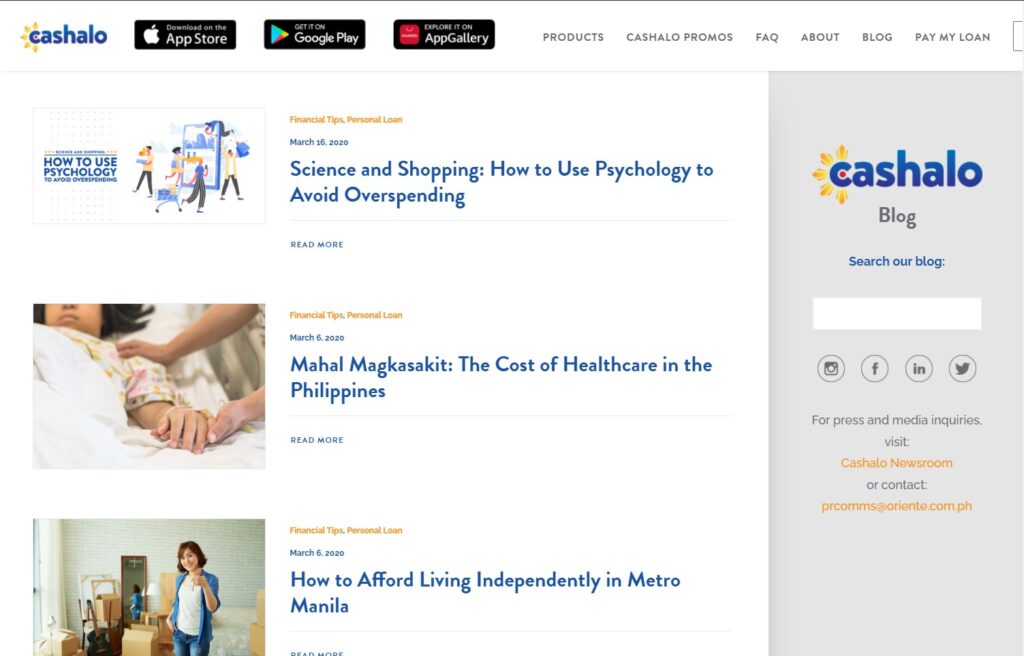 Minimum Loan Amount: Php 1,000
Maximum Loan Amount: Php 3,000
Interest Rate: 0% for promos, 3.95% regular loans
Requirements:
Personal information (valid government-issued ID and proof of billing/address)
Work information (valid work ID and recent payslip)
Bank account details
Although a relative newcomer to the Philippines loan app scene, Cashalo Loan is already experiencing plenty of successes.
While Cashalo may have strict standards for its borrowers, it is still friendly for borrowers who do not have a bank account. With Cashalo, you can also use PayMaya and Gcash to receive your loan proceeds.
One of the things that we like most about the Cashalo app is that they have plenty of promotions and discounts on their service. Referral bonuses, payment through ShopeePay, discount coupons for specific shops, and more can be availed by using this app.
They even have a 0% interest rate repayment for some select partner merchants, so you can shop without worry if you qualify.
Borrowing Money from the Best Loan Apps in the Philippines
Compared to traditional banks, the best loan apps in the Philippines are sleek, convenient, and modern. However, we mustn't be swayed by clever advertising alone.
When considering which loan app to borrow from, we must know the critical details about the loan's terms and other features that might affect our future ability to pay.
This article talked about all the best loan apps that you can use to get quick cash in the Philippines for this year. We hope this will help you make the right decisions.
Do you have any experience with these loan apps? Tell us in the comments below!