After stretching your budget to its thinnest, you realize you still can't make it to your next paycheck. In times like these, we may need to avail of small loans to get us through.
While the thought of owing money to a person or an establishment may be daunting, for many people, it's a necessary part of life. This is especially true in situations where the difference is literally between life and death.
According to a study by Philcare, about 25% of Filipinos planned to incur debt to cover medical expenses last 2019, highlighting the need for quick and easy loans, as distasteful as it might seem.
With this demand and the rapid increase of the cost of living in the Philippines also comes the rise of various digital money lending initiatives, including online loans that may just be what will come to your rescue.
In this article, you'll learn about the best online loans in the Philippines, how it differs from loan apps, and how you can take advantage of this financial instrument.
Difference Between Online Loans and Loan Apps
You may have heard of the terms online loan and online apps used simultaneously, and while there are definite similarities between the two, there are several differences as well.
This includes the waiting time, loan requirements, and loan limits.
Waiting time. Online loans usually take longer to approve compared to loan apps. This is because online loans have higher standards of verification and thus are more likely to take better care in reviewing your application.
Requirements. While you need to submit legal documents for both methods, online loans are usually stricter in their loan requirements.
Loan limit. Loan apps let you borrow a comparatively small sum of money in exchange for easier requirements, but online loans let you borrow bigger sums if you have the right requirements.
Difference Between Online Loans and Traditional Loans
Online loans and traditional loans differ just as much as online loans and loan apps.
Since traditional loans are spearheaded by established banks, they can afford to release bigger sums of money. However, to mitigate their risks, traditional loans require a stricter bureaucratic process to approve their loans.
However, traditional banks can also issue online loans.
Online loans led by traditional banks are more reputable and tend to be easier to apply for. However, they are also stricter than most purely-online lenders.
Best Online Loans in the Philippines
Here are the best loans that you can avail of completely online this 2022.
Best for big and long-term loans.
Loan Floor: 100,000 PHP
Loan Ceiling: 2,000,000 PHP
Interest Rate:
Revolving Monthly Interest Rate: 2.42%
Exact Annual Interest will differ based on your loan terms and will be stated in the Disclosure Statement
Eligibility:
TIN
21 – 65 years old.
Citi credit card holder
Valid billing address in the Philippines
Php 250,000 minimum gross annual income
Requirements:
One valid identification with photo and signature
Latest ITR (BIR Form 2316) OR latest full monthly payslip for employed individuals
For self-employed individuals:

Latest ITR (BIR Form 1701)
Financial statements with certified auditing
Balance sheets
Tax receipt
CitiBank has long been a provider of affordable and customer-friendly loan terms for Filipinos.
The CitiBank Personal Loan is a fully online loan process that features variable fees that can change depending on your loan terms, giving you the flexibility you need to fund your business expansion, home renovation, or other personal expenses based on your financial ability for the moment.
However, there are also plenty of fees that you have to keep in mind if you want to avail yourself. Your application process can also be quite strict.
Best for short-term personal loans
Loan Floor: 5000 PHP
Loan Ceiling: 35,000 PHP
Interest Rate: Varies depending on your loan terms
Requirements:
Primary government ID
Secondary company ID
Certificate of employment
Proof of current residential address
PeraJet is an online money lending company that offers a blistering fast loan approval rate. All you have to do is comply with the eligibility and requirement terms, and a loan decision will be made within the day.
The loan limits are also pretty high. Although you can only loan a smaller amount for your first loan, you can loan up to 35k PHP if you are in good standing.
However, they do not post their interest rates on their website, so you have to carefully assess if you're fine with their terms before you approve it. Another downside is that their services are on hold because of the Covid-19 pandemic, although they should be back shortly.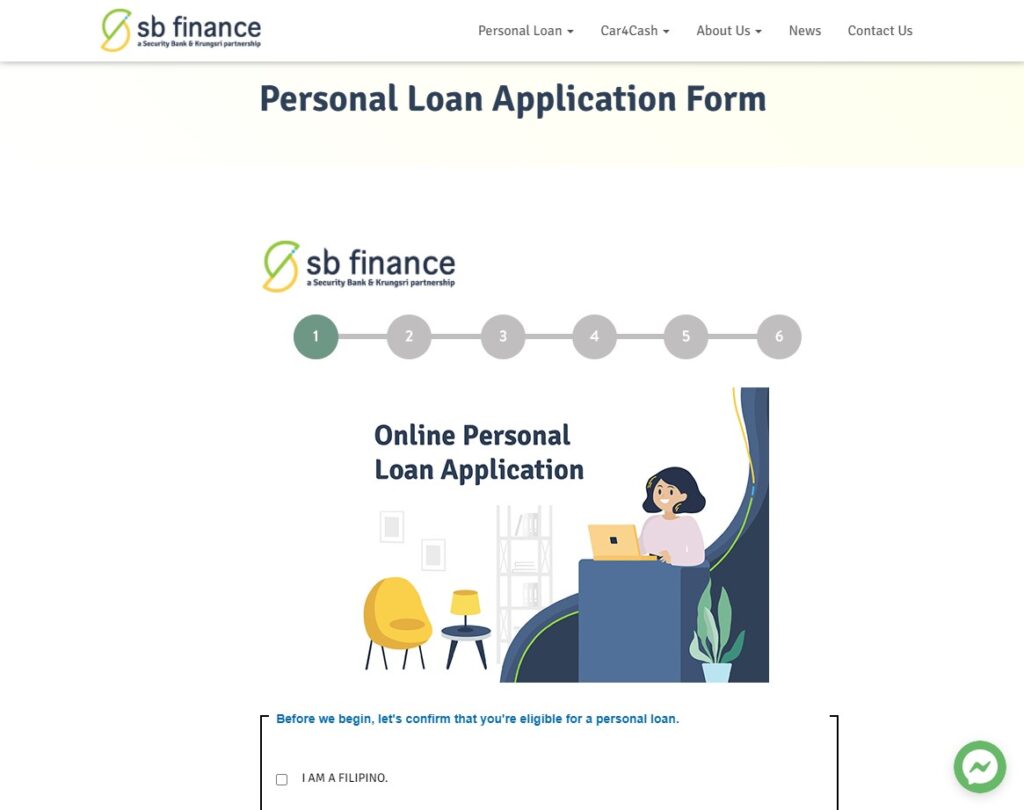 Best no-collateral bank loan.
Loan Floor: 30,000 PHP
Loan Ceiling: 2,000,000 PHP
Interest Rate:
Varies depending on your loan variety and terms
Base rate of 26.27% for six months to pay
Requirements:
This loan product is a partnership between Security Bank and an international Thailand-based banking company called Krungsri.
This loan can be applied for completely online, and you can pay your loans in 12 to 36 monthly installments, with a corresponding increase in the add-on rate and annual interest rate. However, the approval rate can also reach up to 5 days.
Best for minor emergency expenditures
Loan Floor: 2000 PHP
Loan Ceiling: 20,000 PHP
Interest Rate: 0.8% daily
Requirements:
Verified security bank online account.
Valid government ID
For employed individuals
For self-employed individuals

1-year ASF
SEC Registration or DTI Certificate
Business or Mayor's Permit
Bank statement for the last 3 months
Three trade references
Asteria is primarily based in Makati with its complete license from the SEC. This lending company offers hassle-free online loan processing that can answer your immediate needs.
Asteria is one of the fastest-growing fin-tech agencies in the Philippines that offers monetary loans via online applications. They provide a complete variety of monetary merchandise from private and salary loans, to upcoming enterprise and auto loans.
Along with providing clients easy access to their financial products, they also offer long-term financial solutions with flexible payment terms.
Best for vehicular and machinery loans
Loan Floor: 5000 PHP
Loan Ceiling: 500,000 PHP
Interest Rate: 3.315% – 4.563% monthly
Requirements:
Debtors must be at least 21 years old
Minimum salary of 7000 PHP a month.
Acom's cash loans don't have a maximum loan tenure, so you can take as long as you need to repay your loan amount.
However, be aware that you need to pay a corresponding increase in interest rates for the length of your loan tenure extension, so you still need to calculate your capacity to pay first before you approve your loan.
Best for amenities, tuition, and startup loans
Loan Floor: 10,000 PHP
Loan Ceiling: 100,000 PHP
Interest Rate: Depends on your loan terms
Requirements:
Two valid government IDs
One company ID if an employed individual
Proof of Billing
Payslip for the last three months
Address Map (Residential, Business, or Employment)
Certificate of Employment
Business Barangay/ Business/ DTI Permit (for business owners)
RFC is one of the longest-operating lending businesses within the Philippines.
The agency started in 1964 pioneering (non-bank) automobile and equipment loans to Filipinos. Through the years, they've varied their monetary offerings granting an array of private loan alternatives to their clients.
Given that you're a bit short on cash to afford at least a week to get a loan, this is the best credit choice that you have on the list. It has the lowest interest rate, more bendable conditions, and larger sums.
You can control your cash proceeds better by taking loans with extended conditions like the ones that RFC offer
Should You Borrow Money Online?
There are certainly times when you need to borrow money urgently; however, there is still no lending method that can ever match good financial habits in keeping yourself afloat.
Before you contemplate borrowing money online, you need to make sure that:
There are no safer methods available.
You can pay the amount of loan you will loan.
If you're sure that you can pay the money you borrowed online based on your existing capacity to pay, then by all means do so.
Just ensure that you know your loan terms so that you don't get any surprises down the road.
Best Online Loans in the Philippines This 2022 on Adulting Pinoy
As an adulting Pinoy, it can sometimes feel that loan apps, online loans, and even credit cards are an unavoidable part of life. And indeed it's a great way to finance big or emergency expenses as long as you're responsible about your payments.
With this list of best online loans in the Philippines, you now have everything you need to make a proper assessment of the lending companies that you can use to lighten your financial burden!