As we grow older, our time is becoming more valuable. Thus, we shouldn't spend a lot of time working on the hassles that a mismatched bank account can bring to our lives, so as Adulting Pinoys we need to have bank accounts that are perfect for our needs.
Maintaining balance is one of the most pressing concerns in choosing bank accounts to use.
If you don't like being charged a certain fee to keep the required amount of money on your account, then you'd want to opt for bank accounts with no maintaining balance.
This article will discuss the best zero-balance bank accounts for all Adulting Pinoys!
What is Maintaining Balance?
Banks offer deposit accounts to their clients. These accounts come with terms and conditions, from an opening balance necessary to open the said account to the required balance to earn interest and interest per year.
Maintaining balance is also one of the things to look out for when opening a bank account. This is the amount of money banks usually require to keep in an account.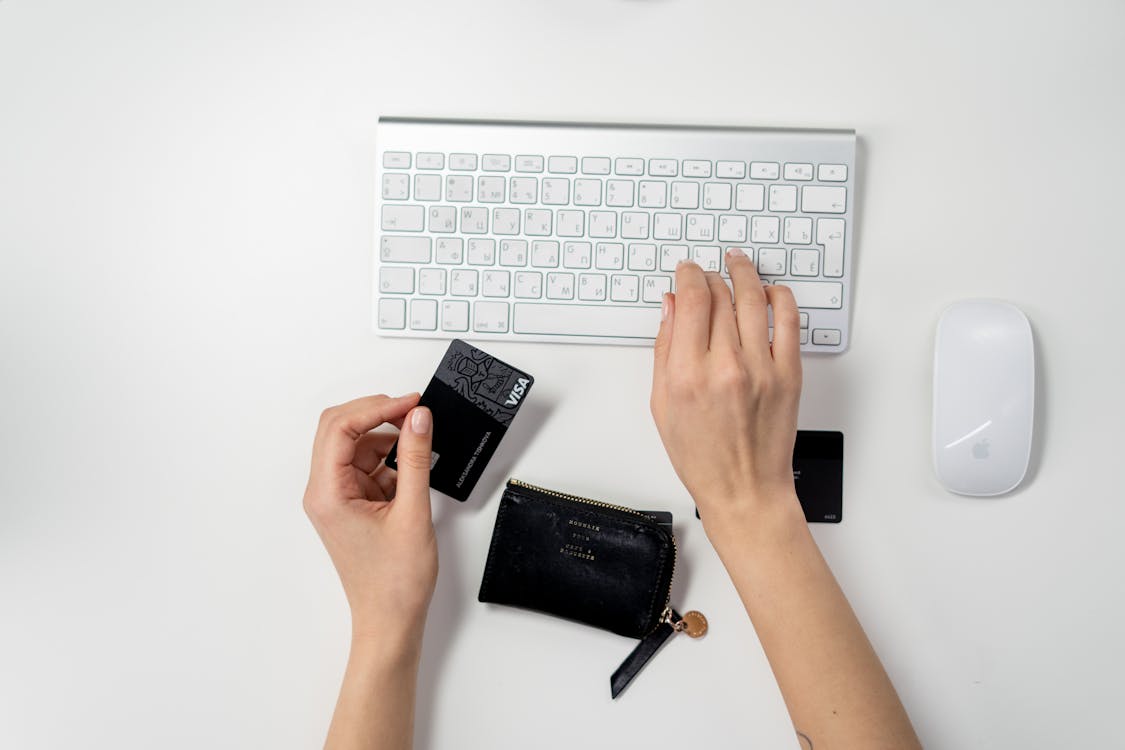 Banks accumulate costs in keeping and managing accounts. To recover the said costs, they work by gathering deposits from accounts that would form a primary base made accessible for loans to individuals and establishments, investing, and other avenues for gains.
For obvious reasons, they cannot maximize their banking activities from accounts with no deposit or whose deposits fall below maintaining balance.
This is why they encourage people to keep a certain minimum level of deposit consistently.
Your Average Daily Balance (ADB)
The amount is dictated by getting the median 24-hour balances of the previous 30 or 31 days of the month. Therefore, it is often called monthly average daily balance (MADB). It doesn't matter how much money there is in your account by the following day. What is tracked is the deposit at the end of each day.
Let's say your deposit is ₱5,000 at 10:00 a.m. You took out money after 12 hours, reducing your balance to P2,000. Due to this, the bank will record ₱2,000 as the balance of that particular day.
Your average daily balance is simply the average balance of these end-of-the-day snapshots for the month. If your overall average daily balance equals the amount required by your bank, you won't be charged with fees. If not, then you will incur the stated penalty.
Best Banks with No Maintaining Balance in the Philippines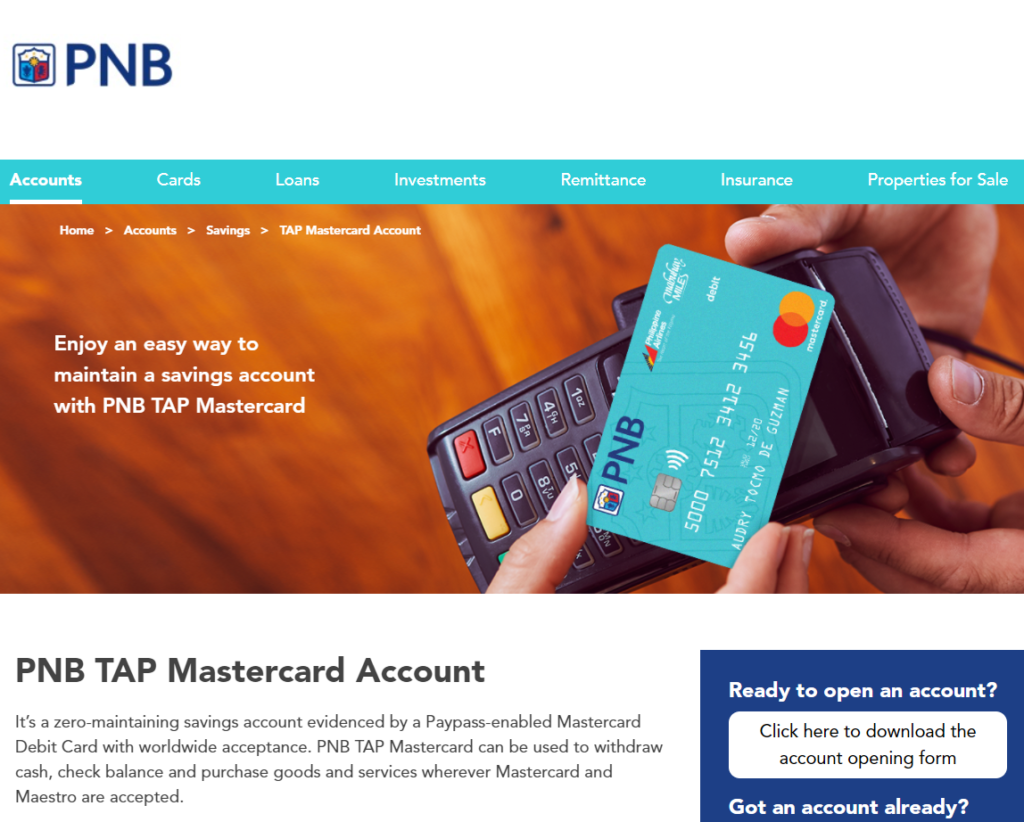 Best for airline points.
Account type: ATM
Interest rate: 0.100% per annum
Interest-earning balance: PHP 10,000
Monthly account fee: PHP 15
If you're looking for a bank account where you can just store your funds, then send and retrieve funds as well, try TAP Mastercard, one of PNB's savings accounts with no maintaining balance.
This savings account includes a PNB-PAL Mabuhay Miles Debit Mastercard, which you can use to retrieve and pay for purchases anywhere that accept Maestro and Mastercard PLus. You can also earn Mabuhay Miles points that you can redeem at PAL for discounts on your airline tickets.
Mabuhay Miles Mastercard is a collaboration between PNB and Philippine Airlines; this card enables customers to convert the total amount of any transaction into free miles when they travel with PAL.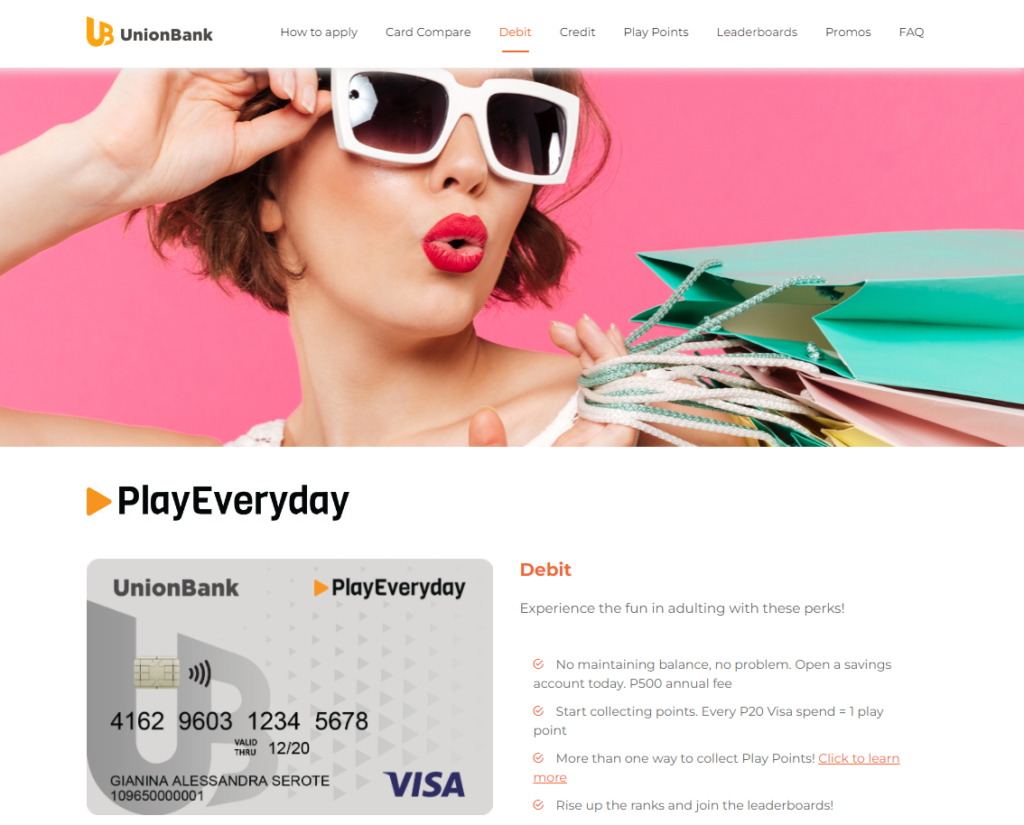 Best for a fun, gamified banking system.
Account type: ATM
Interest rate: 0.100% per annum
Interest-earning balance: PHP 10,000
Monthly account fee: PHP 15
PlayEveryday has a game-themed feature that lets you pick your avatar when setting up your account. The game is simple, the more you transact your card — whether for purchases, bills, or services — the more rewards you earn, and you go up the leaderboard depending on your reward scores.
Each rank-up comes with more exciting perks you can use on your next transaction.
Not to mention UnionBank Online has one of the best digital platforms around. You can sign up on the UnionBank app within minutes using their fully-online method, so you don't need to go to a physical branch.
Best for fully online use.
Account type: Digital
Initial deposit: None
Interest rate: 2.6% per annum
Interest-earning balance: None
Daily withdrawal limit: PHP 50,000
Managed by CIMB Bank Philippines, GSave is in-app savings account exclusively for GCash users. To get an account, you just need to be a fully verified or partially verified GCash user.
GSave transactions—such as account opening all the way to withdrawals—are all processed through the GCash app, making it one of the most efficient savings accounts with zero maintaining balance in the country.
Sending and accepting money can be done only from the GCash user's GSave account to their GCash wallet.
A big plus is almost all business establishments in the Philippines can operate through GCash, making GSave one of the most efficient in-app savings accounts in the country, making your transactions quick and hassle-free
Best for OFW banking needs.
Account type: ATM
Initial deposit: None
Interest rate: 0.10% per annum
Interest-earning balance: PHP 500
Daily withdrawal limit: PHP 20,000
DBP has a separate ATM savings account called the EC Card Account with zero maintaining balance and initial deposit.
The ATM card can be used for withdrawals, point-of-sale (POS) transactions, and bill payments. Aside from being an ATM type of account, the EC Card can also be enrolled online. Qualified for this type of account are Overseas Filipino Workers, whether for departure, currently abroad, or OFW beneficiaries.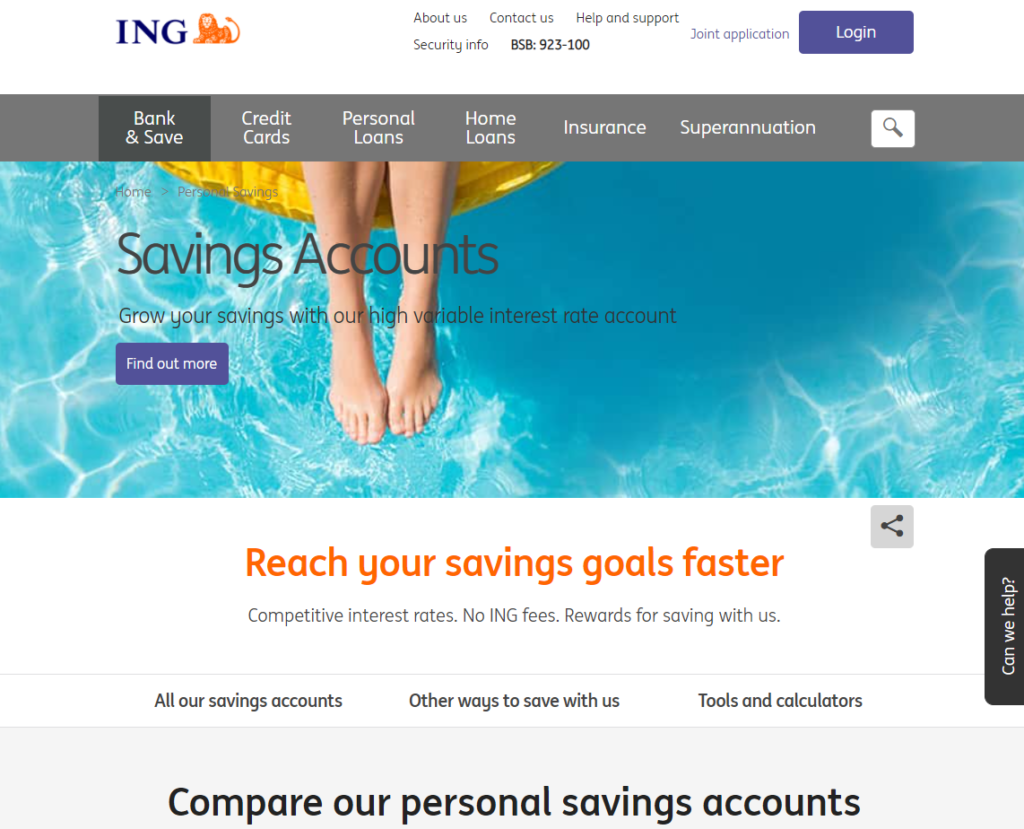 Best for high-interest rate for savings
Account type: Digital
Initial deposit: None
Interest rate: 2.50% per annum
Interest-earning balance: None
ING Philippines makes saving more accessible and satisfying for Filipinos. This bank presents a savings account with one of the country's highest interest rates. More essentially, it has no required maintaining balance and initial deposit.
As an entirely digital bank, ING can perform traditional transactions like account opening and money transfers through its mobile app. Clients may even deposit a check via the ING app. ING offers a variety of savings accounts suited to your specific plans and needs,
This bank also offers Savings Maximizer Options which allow you to make the most out of your deposit. Availing of the Savings Maximizer provides an even higher interest rate if you meet the criteria for one calendar month.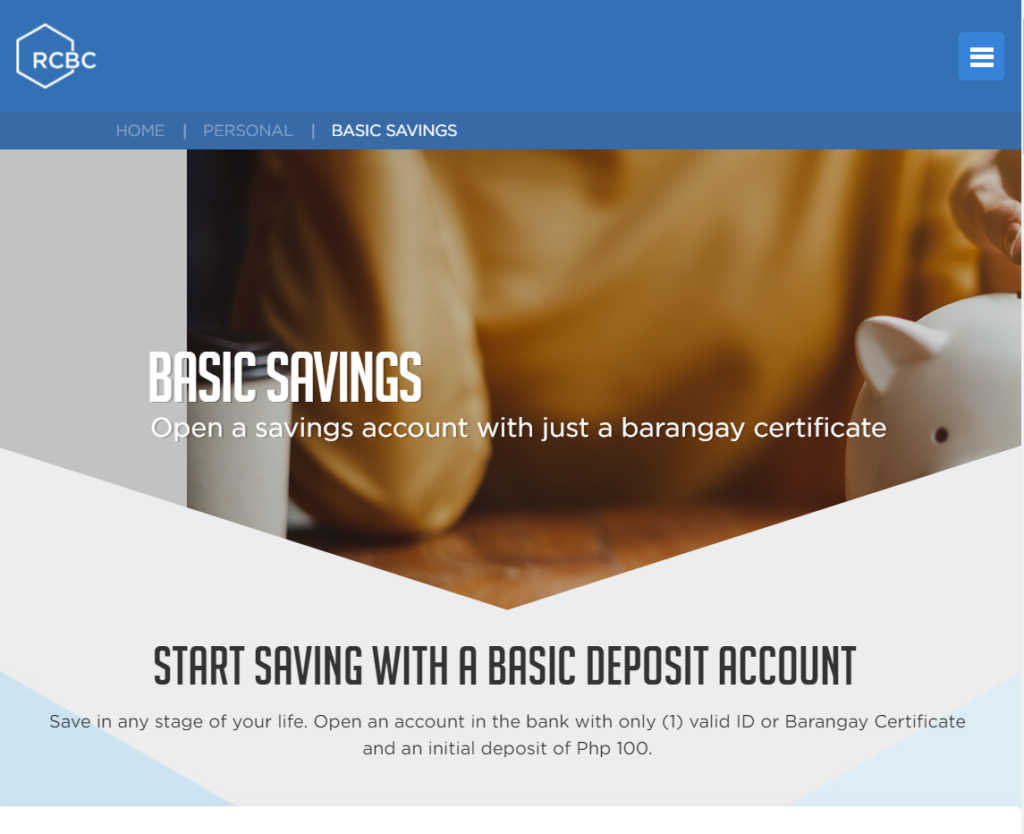 Best for those with no bank account and those with no government-issued ID
Account type: ATM
Initial deposit: None
Interest rate: None
Interest-earning balance: None
With just a completed RCBC account opening form and your barangay certificate, you can now get your own RCBC Basic Savings Account and enjoy no required Average Daily Balance along with RCBC MyDebit/ATM Card.
Benefits include optimized security, Worldwide Acceptance via Mastercard, Cash-free and digital spending, unlimited access to your account, to name a few.
RCBC Savings Account also requires no amount of balance to earn interest as well
RCBC also offers a variety of options for their clients at the lowest balances and the most benefits with free personal accident insurance and free hospitalization bills to name a few RCBC sees to it that things are more accessible for its clients by adapting to the times with their new virtual savings account making banking from home safe and easy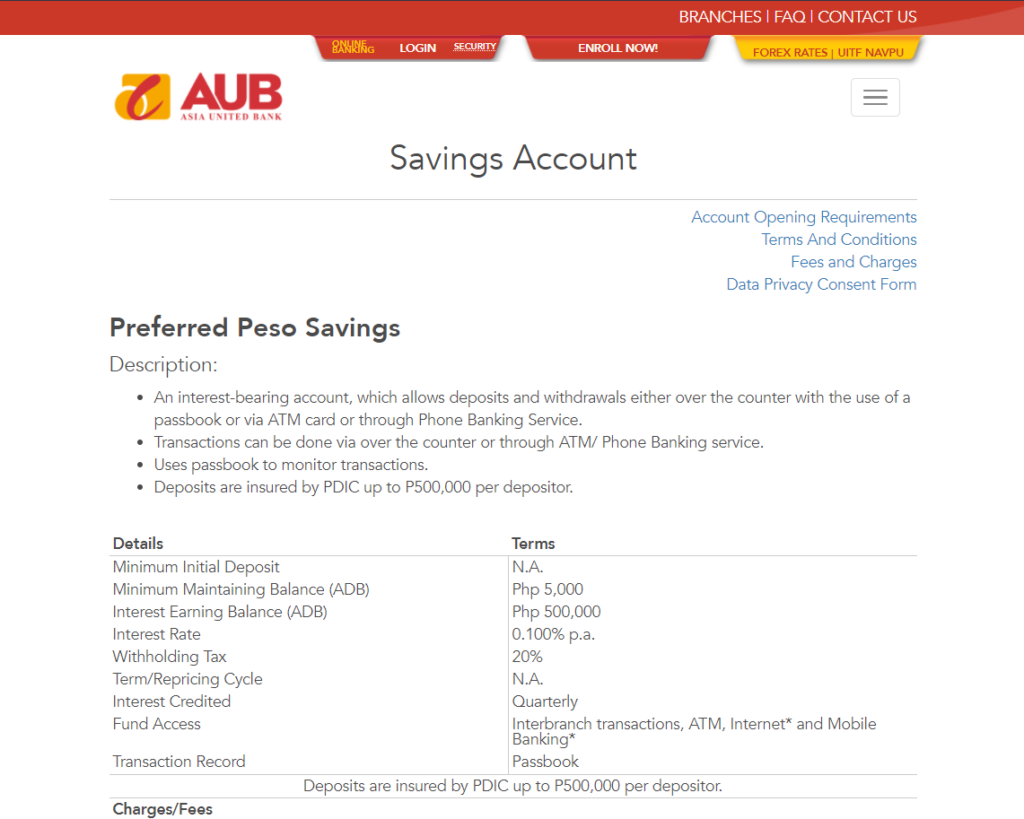 Best for no-frill bank accounts.
Account type: ATM
ATM card processing fee: PHP 100
Initial deposit: None
Interest rate: 0.100% per annum
Interest-earning balance: PHP 1,000
AUB Starter Savings comes with a passbook or an ATM card along with 24/7 mobile banking access, not to mention Starter Savings bears a 0.100% interest per annum with no initial deposit
AUB also has an easier way of transferring funds to other financial establishments with one of the lowest charges compared to other financial institutions coupled with faster and more client-oriented services
Best for time deposits and accessible joint deposit accounts.
Account type: Digital
ATM card processing fee: P200 +P100 delivery fee
Initial deposit: P5000
Interest rate: 1%
Tonik is one of the first revolutionary exclusively digital banks to make its way to Southeast Asia. Its international presence makes the company strive towards transcending the banking processes of various countries. This makes Tonik the digital bank compatible with all across borders while maintaining its tight security features.
Tonik is a pioneer in all-digital banking transactions in the Philippines. As a matter of fact, they are the first to acquire a digital bank license from the Bangko Sentral ng Pilipinas (BSP)
Tonik is the first digital bank to offer the highest security in all its transactions, including automated fraud detection, monitoring, and control. This means a safe and secure banking experience minus the long queues of ATMs and physical branches.
One of its main benefits includes features like time deposits and joint accounts.
This means that you can automate your savings and create a joint account where you and your friends can put money together.
Balance-free Banks in the Philippines
Bank accounts are a vital part of every Filipino's life, so we all need to make sure that our accounts are just perfect for our needs.
With this list of the best bank accounts with no maintaining balance in the Philippines, you can now look for which bank account works best for you.